Search for your issue here, chances are we have an answer for you in our guides.
Setting up Your Space
As an event organiser, one of the first things you will need to do in order to start creating your very own events; is set up an event space. To do so, follow these simple steps:
Log in to your CME account. If you need help doing this, click here.
Once logged in, access your CME home area by clicking the home button from the top navigation bar, from the Connect My Event home page.
From your home area, click Event Spaces, as shown below:

Now, simply click the 'Create Space' button on the right hand side, enter an appropriate event space title, and set your event space access settings, as shown: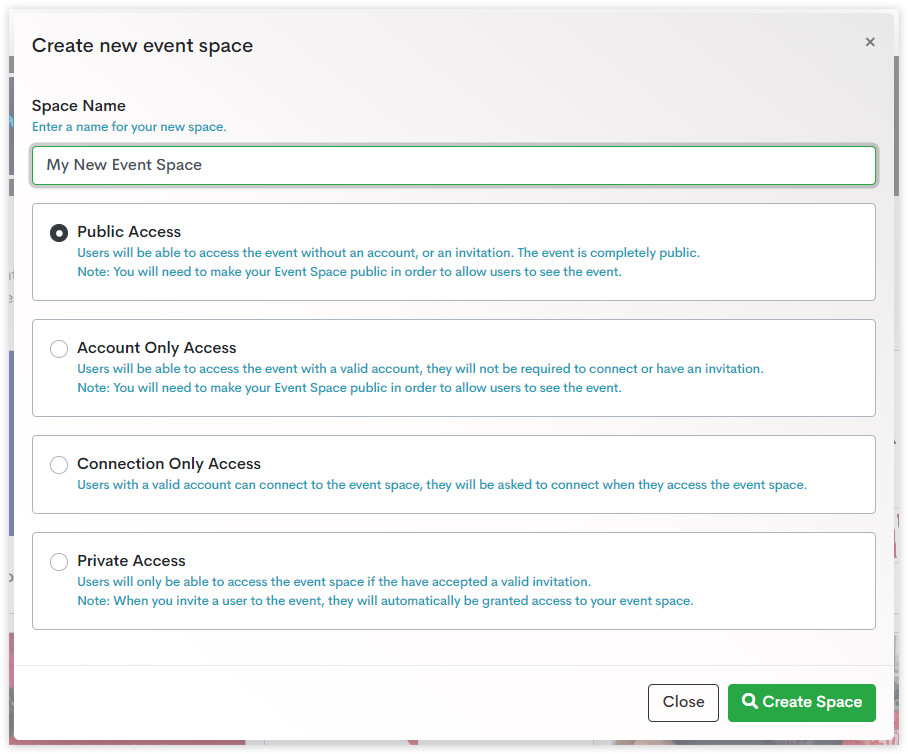 Unsure of which access level fits your event space?
Public Access
An open event space, no CME registration or event invitation required. Anyone can access the event space, provided the URL has been shared with them.

Account Only
Very similar to Public Access, however in order to access the event space, users will need to register and create their own CME account.

Connection Only
To access the event space, users will not only need their own CME account, but also be asked to 'connect' with their account when attempting to access the event space.

Private Access
An event space with restricted access, for invite only users. To access the event space, users must be sent and accept an email invitation.
After choosing an access level for your event space, you'll be asked for a few more details, such as a quick introduction to be shown to your users within your event space, and the URL you would like to use. Once happy with the information you have entered, you can either Save (which will leave this dialogue window open), or Save and Exit (which will take you to the event space). If you want to make you event space live for use by others, ensure to tick the 'Published and Live' box, before saving and exiting.

Please note, you can come back to this settings page at any time to make further changes to your event space.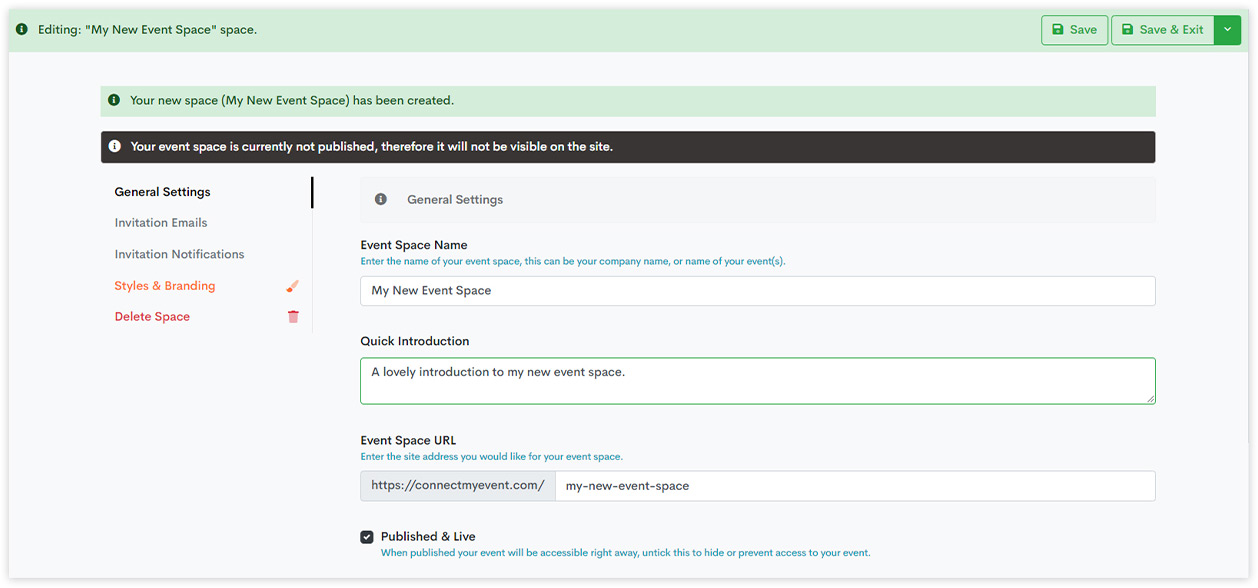 And that's it, you have successfully created an event space, which can be used to create your very own branded events! Our event space customisation guide will take a deeper look at the different ways you can customise, control and brand your event spaces.

© 2011 - 2021 Connect My Event Limited. All Rights Reserved.